To many people taking a good picture seems like a pretty easy task: all you have to do is point your camera, press a button and enjoy a great picture. The truth is, there is so much a photographer needs to know that there if you want to take pictures that look like art, you need to study and practise for months or even years. If you don't have to spend all that time studying, you can use our 7 great tips that will turn you from an average to a great photographer in no time!
1. Use the "golden hour" to shoot
According to professional photographers, the best pictures they've ever taken have been shot at two periods of a day: right after dawn and shortly before sunset. It doesn't matter if you're taking a picture of nature, people, houses or cars – during these few hours you'll be able to capture the most attractive light, and everything will look better in your pictures than it actually does. You can even create a little experiment: go outside right now and take a picture of the nearest tree, then do the same just minutes before sunset – you'll see the difference right away!
2. Don't focus on capturing beauty
A lot of famous photographers claim that in order to learn how to take pictures of beautiful objects, first you need to learn how to represent the "ugly" side of life. If you're only beginning your way as a photographer, practise on taking pictures of dirt, garbage, ruined buildings or broken down cars. As soon as you learn to make these "ugly" things look pretty in your pictures, you'll be ready to shoot anything and anyone, from cats and dogs to parties and weddings.
3. Never stop learning
Even if you're not planning to become a professional photographer, and only want to take pictures of your friends, relatives and nature, you still need to learn a lot about perspective, coloring, contrasts, composition, shading, etc. Only after you master these art tricks, you will notice the way your photos come to life – your portraits and scenery photos will look so much better! You don't even have to spend money on learning – nowadays it's very easy to study photography online for free.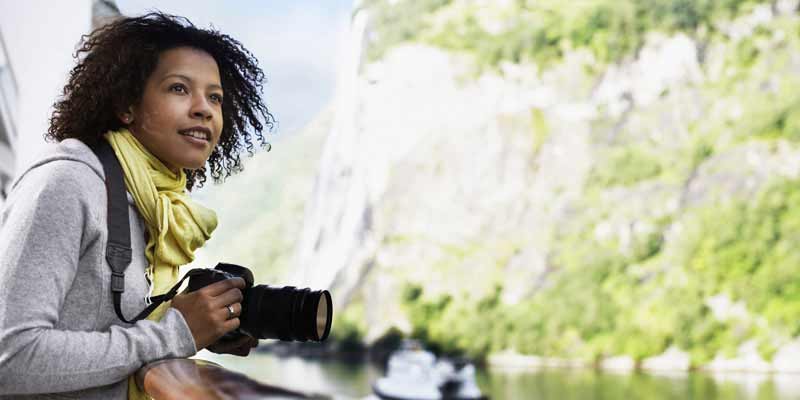 4. Don't start with buying expensive gear
When all you wish is to become a great photographer, it's easy to get distracted by wanting to buy the best and most expensive camera and other equipment. However, a lot of notable modern photographers are able to take a stunning picture using just their iPhone. In most cases it doesn't matter what kind of equipment you use, as long as you know where to stand and what lighting to use to create the most amazing photo.
5. Learn the power of composition
Of all the skills a true photographer needs to know about, composition belongs to the most important ones. Using the right composition, you can turn the most usual scene into a work of art. Luckily, you don't need to study too much to learn the basics of composition: you can start by taking pictures with your iPhone or Samsung. When you take a picture, most smartphones and tablets divide the photo into 9 equal segments. The secret is to avoid putting the object of your photo into the central segment. Move the camera a bit and you'll get a much better result!
6. Take macro pictures like a pro
Did you think macro photography was only for people with macro lenses? Well, with our next simple trick you'll be able to create stunning macro photography using your smartphone and nothing else! All you have to do is place a small drop of water on your phone's lens, then focus on the object and take the picture. With this tip you'll have amazing macro pictures of flowers and plants, insects and small birds without having to spend a single cent on expensive macro photography equipment!
7. Explore the work of other photographers
If you're interested in photography, there must be some photographers you truly admire. They can be famous artists or photographers from your city whose works you find online. It doesn't matter where your favourite photographers live or what kind of photos they take – there is always something you can learn from them. Some artists specialize in black-and-white photography, while others take stunning portraits. Study the work of the artists you find especially valuable, and you'll learn to take professional and alluring photos in no time!
"You'll learn to take professional and alluring photos in no time!"