What can be more impressive, than well-groomed person?
Statistic says, that sharp-dressed, well-treated people with unobtrusive odour are more attractive, more successful, they easier find friends. It is proved, that we chose friends and spouses not only for their behavior and beauty. We don't notice, that our nose gathers information about people we meet and our brains  make decision, do we like this person. 
This works also with places where we go. When you return home after long trip, you probably breathe deeper and feel peaceful. Or when you walk on the street and some smell reminds you something.
---
Today JiJi.ng wants to tell you how apply perfumes to attract people. There are some rules for men and women. Let's start!
---
Dear people! Please, don't use whole bottle of cologne at once! You become a tear bomb – it impossible to breathe near you!
Any, 32
I want ask men – please, go to the shower or use wipes, but don't try to mask your small with perfume!
Ojo, 24
I was talking with mechanic about my car and see a pretty woman. She was really pretty until we smell her perfume. Scent was good, but too much.
Stan, 29
---
What are the common mistakes?
Do not apply perfume instead of deodorant, in places of sweating – armpit, feets. Odor mixes with the smell of sweat in terrible combinations.
Do not apply perfume before gym or physical training.
If you use the same perfume for long time, your nose ceases to feel it and you may apply it too much before you smell it. But another people suffer.
Do not mix strong scents. don't use cologne after shaving, deodorant and perfm of diferent scents at the same time.


---
What are the rules of perfume application?
Apply a few drops perfume on blood pulsing places – neck, wrist, behind ears.
Men can apply perfume on chest – people whom you hug will smell it through shirt.
Apply perfume on clean skin – after bath or shower.
Spray perfume from distance or spray it in the air and walk through – drops will set on the hair and clothes, covering you odorous halo.
Renew scent after 4-5 hours during a day if needed, but no more frequent.
Do not rub – just touch a skin.
---
This rules seem to be very simple, but many people ignore them.
Stay gorgeous with JiJi.ng.
On next page we prepare something interesting! Don't miss it!
First perfumes weren't liquid. Since antient times perfumes were solid, only in 18 century they become fluid. 
Nowadays top brands release limited editions of solid perfumes – Dyptique, Bottega Veneta, Estee Lauder and many other. Even Beyonce emit cocktail rings with solid sample of her perfume!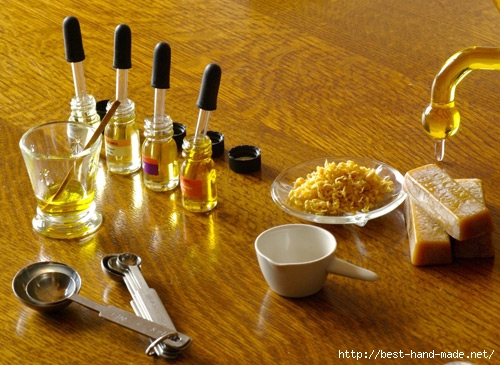 Let's recreate ancient recipe of solid perfumes with your own aroma!
Materials:
Capacities for perfume
It could be drop-down medallions, any small container: empty boxes from the eye shadows, small cases for beads – that comes to mind. The main thing is closing container lid, it will protect the perfume from dust and litter. 
– Natural beeswax or peeled medical paraffin.
– Base oil (any solid odorless vegetable oil – almond, coconut, shea or jojoba), vitamin E;
– Essential oils for your taste. This may be one essential oil or several.
Mix 1 tbsp. spoon of base oil with 1 tbsp. crumbled beeswax. Wax can taken a bit more to equalize the amount in molten form. Mix in a small glass or ceramic vessel, which can be heated.
Put the mixture on water bath and wait until the beeswax is completely melted. 
When the wax melts (not boiling!), carefully remove capacity with him from bath and add few drops of essential oils. You can take some one essential oil and get the perfume with a simple flavor, and you can try something and get to mix spirits with a personal composition.
Thoroughly mixed and carefully but quickly pour the perfume into prepared containers.
In principle, you can add 10-15 drops of your favorite perfume into a mixture of basic ingredients (wax and oil).
To compose essential oils use guides – you can find thm in Internet, or find perfumery courses in your city on JiJi!
Be in trend bu and sell on JiJi.ng!!!