Every girl once look into a mirror with a thought: Uh, my style bored me, I want changes! And it is a real problem to choose what to change. Make up? Too easy. Wardrobe? Too bustle and you already have several looks for rock party and for New Year celebration. The most interesting way – change hair color! That's always captivating! And when you walk into street and see something like this appear the idea of mermaid hair!
And you think: "Oh my God! 
Of cousre! Why I didn't think about this before! Refuse ordinary colors! If you want rainbow in your life – make rainbow mood with every head move!
There are several ways to make trendy mermaid hair. What are the best? Let's decide together – we will tell about all of them! Follow next page!
Sometimes mermaid hair is called pastel hair. Did you know, that chalk and pastel can be used in hair coloring? When this bright idea came into some girl's head, almost all big brands released special chair chalks. It is very funny process.
A quick demonstration of how to use Kevin Murphy Color Bug hair chalks. Great for long or short, blonde or brown hair.
On video it looks easy, but notice – at first times at home all room will be colored too).
This method is good enough for blonde hair, if your hair is black, colors will be shady. Wet your hair, apply soft pastel or chalk. Then use hot iron – woila – you got colored lock! But this lock will have a little strange appearance – like it sticked with glue – don't worry it will wash away.
So, our conclusion – joyful life spending with friends, all room and clothes in chalk, looks not good enough to do this again.
Found these gems at my local Sally Beauty Supply and picked up one in every color to review and swatch for you! This is my First Impression, Review, and Demo of the Loreal Liquid Hair Chalks on Natural Hair. Colors purchased are purple, pink, blue, red, and bronze! Enjoy! XoXo!!
What else we can use? Follow next page!
Don't use markers, eye shadows food coloring, colored drinks or fruit jelly to stain your hair – this works bed even on light hair. Green pin likes experiments and try this stuff – don't waste time. Better visit JiJi and buy colored hairspray)
One of the best ways to get mermaid hair – wig for lazy and temporary effeckt, braids and crochet hair for long term. Here are a few tutorials  how to stain a hair locks. Note – even white girls use clip ins to create ombre effect.
Quick and easy tutorial on how I got my mermaid blue + green hair color!
Hey guys so i'm just going to show you how to achieve this black and teal ombre hair. I'm going to be experimenting with a lot of colours this year which should be exciting. let me know what colours you'd like me to try out.
G'day Everyone! Here's a discount code for extensions: maryface01 ($10.00) So I got these extensions from VP Fashion and as you can tell my hair is no longer white, so I wanted to do something fun with them! Introducing swampy mermaid princess hair.
And here are some ideas how to mix colors for best effect!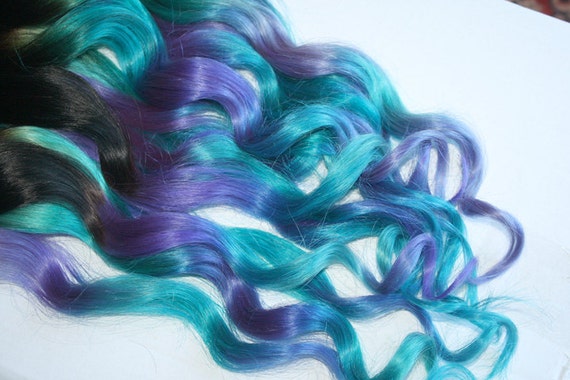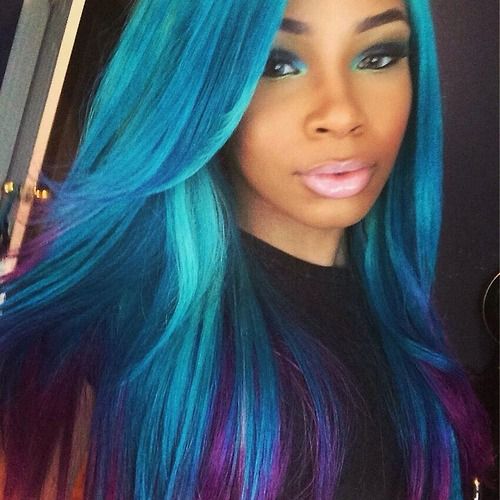 Our skin always looks amazing with blue and purple)
Don't miss next page!
If your hair is short it also will look perfect in some crazy color!
Be careful with bleaching – it can damage hair, better visit some stylist to do this at first time – professional hair paint allow to achieve better effect. After bleaching you can use coloring shampoo or hair paint like Manic Panic etc.
Some realy stylish looks for dessert!
And here are promised braids.