You are working hard to normalize your weight? There are several tricks our mind prepared to put us out.
When you put your meal on plate psychologically you will try to eat it all, even if half of portion will be enough. Especially if you are hungry – eyes see food and brain commands – eat it all!!! If you want to gain weight – se small plates – it will be more comfortable to eat smaller portions. Or decorate  your meal like they do in restaurants – interesting "masterpiece" will distract your mind from size.

Same trick will work if you want to gain weight.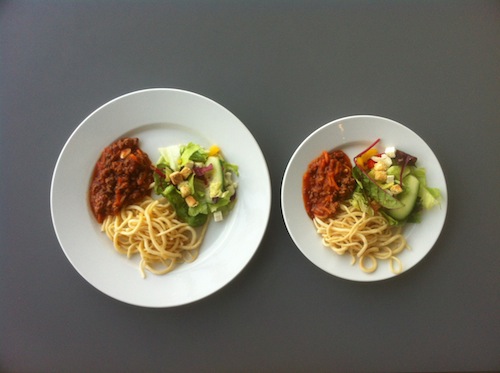 According to researchers, lovers to combine bread and circuses are 23% more likely to develop obesity. Truth is on the surface – when we are concentrated on sitcom or talk show, we do not track the amount of meal and eat more. Who, would eat a bucket of popcorn with a liter of cola somewhere other than cinema? Furthermore, when we eat and watch TV at the same time, the brain does not record the time of saturation and requires additives. The most "delicious" are considered melodrama, horrors and crime news. Last remind us of the danger, the vanity of all things and making de-stress with the help of sandwiches and pastries – the first reaction of your mind.
Try to eat with whole family at the certain time, discussing plans or results of the day – it will join you tighter and will protect from overeating.
An if you want to snack near screen – better take sliced fruits.
4. Culinary sites and blogs
If you consult with some blog what to cook for lunch, dinner or to the arrival of guests at the weekend, all these pictures of lamb in honey-mustard sauce, cupcakes, dips, canapes and only kindle appetite. The body requires food, immediately and as much as possible. You prepare some sandwiches, eat cakes, etc. Immediately move to a site dedicated healthy eating! And do not snack while reading friend lent!
Start your own food-blog! Of course, it's a kind of mainstream, but it will help you to control your diet! And to discuss recipes with old friends, and find people with the same goal!
Your are a good cook? propose your services on JiJi! Earn money from your hobby!

Try to eat too much cake, being in evening dress, tight jeans and tank top, and you immediately feel the blatant wrongness of this act. Loose pants with an elastic band and jacket, hoodie more loyal to waist size changes, we feel free, light and slim and shamelessly exceeds the norm of calories.
Of course, home clothes should be especially comfortable and beautiful. But it is nice if your home clothing will accent your curves and fit!
Smell of some foods can stimulate you to overeat if you are not hungry. Fresh bread, roasted meat, species, coffee – you always notice them walking the street. And there is no escape, except aromatherapy! Choose appetite-suppressing smells of grapefruit, mint and vanilla. The last, paradoxically, also reduces the cravings for sweets. To increase appetite use citrus essentials and essentials from spices – cinnamon, bergamot, etc.
1. Colors and appetite
Scientists have found that the color of dishes or kitchen interior affects the eaten food amount. Red and yellow stimulate appetite, and cold shades – blue, violet lessen it. And if you lost war with eating at night, do not turn on the lights in the kitchen: electric light, according to scientists, awakens the appetite. Even  experimental mice in the dark ate twice less than in the light. Or maybe they just could not find food?