Valentine's Day awakens in our hearts romantic notes, which we may try  to suppress. Pragmatism of the world sets us on a practical approach to life. But in spite of all commercialism on the eve of Valentine's Day, we suddenly began to enthusiastically seek a gift for a loved one, trying to find some touching words of congratulations and even tinkering valentine with our own hands. And who will say that it's not perfect?
Let's look on the most touching ideas of valentines from JiJi!
Cups with declarations of love
Get the most simple plain mugs or cups and colored markers for the glass and ceramics (you can find them in art shops). Draw hearts, write the names and beautiful words. In any case, you get a unique cup, which is one in the world's!
If you draw badly,  just write words, special for  two of you … Well, a couple of hearts will not be excess.

By the way, for such cup you can prepare a tea bags: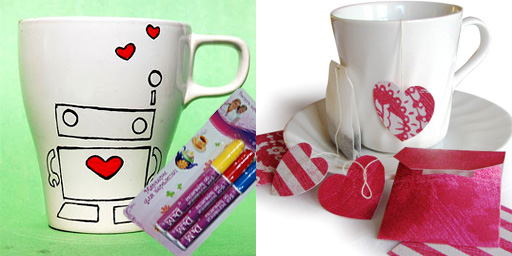 Don't miss next page!
Chocolates – Valentines
Making a new cover for the little chocolates is very simple – it is a usual sheet of paper. You can print different sweet words or draw them – you decide. But such signs of attention are really unforgettable – your beloved will enjoy chocolate and can save the cover for a long years.

---
Another edible Valentines – ginger cookies.
Gingerbread recipe from Christmas is very universal. You can make gingerbread for your sweetheart! Or treat every person you like!
Also you can find people who would like to buy them on JiJi!