Living room often is the biggest, and accordingly, the most significant room in the house. Also, this is a place where whole family gathers to discuss important news, discuss important decisions and celebrate family events, place where we meet with friends who came to visit. Living room – is the "heart" of the family! That's why it is need to give the most scrupulous attention to the living room design, thinking through and taking into account all of the functionality and interior features.
Let's discuss all the possibilities with JiJi – best online market of all you need for perfect interior!
Looking on the style, colors, furniture and interior accessories, that create a certain atmosphere and cozy living room, you can judge the character, habits, preferences of the owners, as well as a family atmosphere in general. For example, people, who are inclined to rational use of time, spend a rapid, active and sporty lifestyle are likely to prefer a classic or contemporary style in the interior. And connoisseurs of refinement and lovers of vintage images leisurely contemplation of beautiful, accessories and take advantage of every possible way to create a living room in the Rococo or Empire style. Country style – a sign of simplicity, unassuming and sincere attitude, retro style – a blend of romance and passion.
1. If you are lucky owner of big living room, a good solution would be to divide it into zones that carry different purposes: resting zone with TV, dining area, possible area for games and stuff that is accepted in your home. Separating of these zones may be different from each other in original ways: the difference in the floor covering, lighting, sills, arches, columns, aquariums, screens, etc.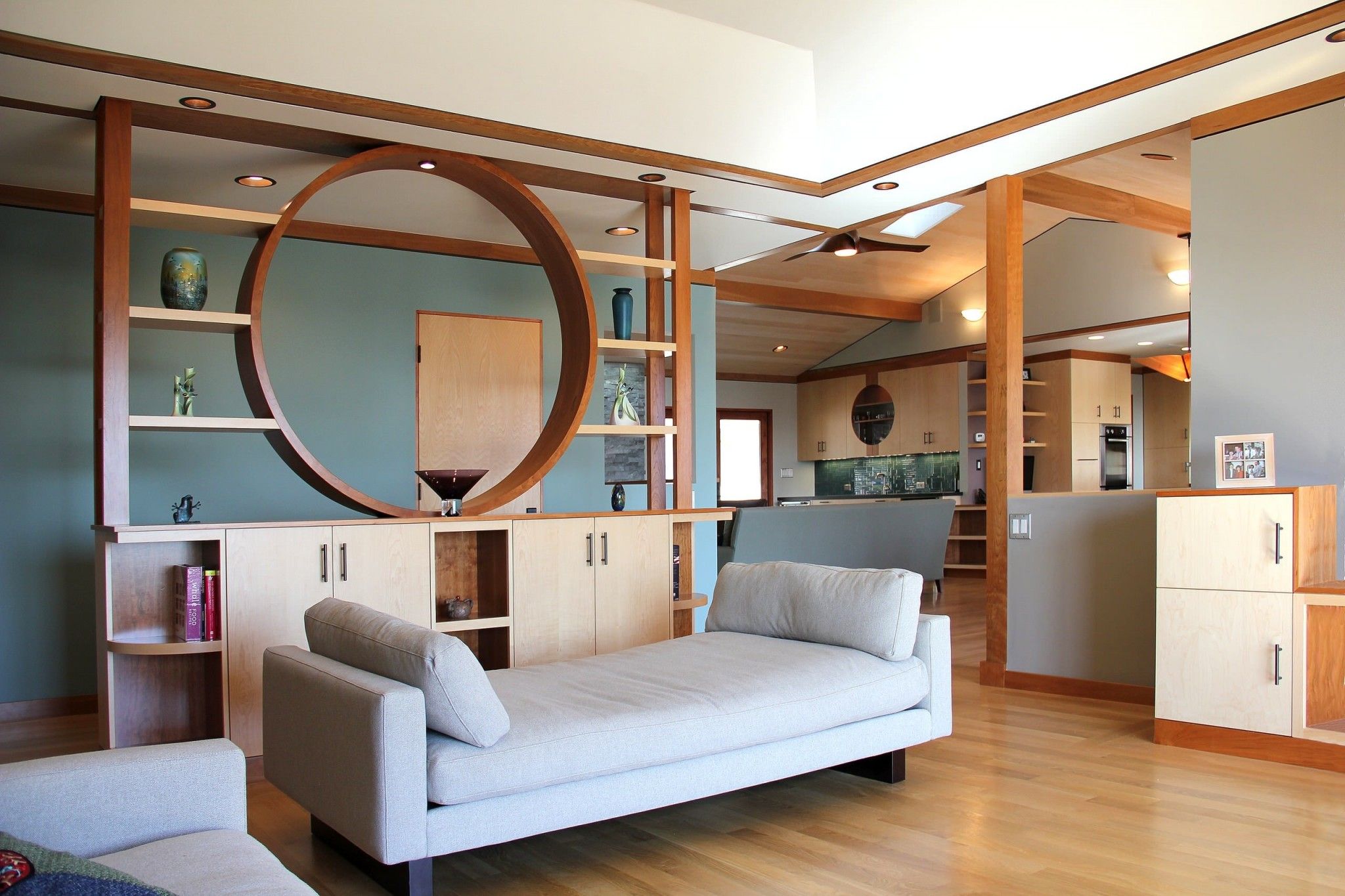 2. If, on the contrary, you have small living room, the most common solution to increase the space is an association of a living room with a kitchen in a single space. If this is not possible, you can use other variants of visual space expansion, for example, using modular furniture that saves space well. Or by using light structures, reflective elements of the interior, transparent glass shelves and coffee tables, open shelving – all this gives a feeling of space and an extra light in the room.
Or use the method of centering the space of the room by a specific placement of furniture, for example, a TV positioned in the center, and the furniture around the room. At the same time abandon the massive sofas and armchairs, and use a couple of small sofas, if necessary, shifted together to form a coherent whole. And on the floor you can put a comfortable cozy cushions that give originality to a room.
3. Of great importance in the final chord of the look of your living room can play a variety of interior details: pictures, photos, pillows –  pillows, cushions, vases, rugs, floor lamps, wall lamps and other accessories. All this will give your living room comfort and uniqueness, make a note of exotic or, on the contrary, the traditional everyday life.
4. Do not be afraid of  wildest  ideas in terms of design living room – it is a fertile field for your experiments. After all, this is your world and you decide what it will be! But with all the diversity of design and architectural combinations, do not forget that as a result everything must be subordinated  of a single style.
And most importantly, remember that the main criterion for selecting the correct design of the living room is your daily desire to spend an evening or any other time in your living room – in a quiet privacy or with family and friends.