Hi! My name's Chuk and I want to share with you my story about my wife's head aches. Who cares your wife's feeling? – ask you, – well, it completely depends on electricity. Everyone knows how most of us provide electricity into houses: current generator and gasoline. It is loud, has low performance index, required oil changes. But for most Nigerians it remains the only source of electricity. And for our family it was so too. My wife is very sensitive for noise and 4-5 hours a day listening how generator works made her suffer. We have a lot of appliances: fridge, washer, PC, my working instruments  so she spent most of time somewhere else – working at the garden, visiting her parents (they do not use generator), so after a few years of marriage I miss her!
One day she told me, that she can't live in my house and want to return to mother, or we must refuse "noisy machine". It was the terrible time. I need stable electricity to make money, so I asked her to wait one week and start thinking what to do. JiJi saved me! This link http://jiji.ng/21-solar-panelschanged everything!
So, what happend after I choose solar power?
Solar battery service life is not limited (no noise, no smell, no need to pull cans, change the oil and gasoline for generator, pays for itself in three years. You listen to the birds and do not inhale CO2).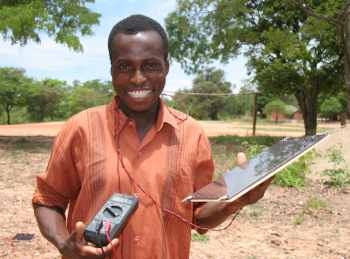 Think about simple calculator – it works at minimum illumination. Also, the solar panel, from dawn to dusk, "in silence" does the magic. While efficiency in cloudy weather, of course lower than in the sunny.
You have electrisity at any time, not just when you start up the generator with the forty-eighth attempt, which makes noise to the delight of you and the neighbors. You always charged: screwdriver, phone, camera, etc. Easy to install the cheapest car alarm and your powerstation is protected. A solar panel provides the necessary coverage, the work of a small TV set, water pump, trim. And with the installation and connection handle any who had studied in school.  
The batteries applied toughened, textured glass, which does not reflect the rays, allows you to collect 15% more of the scattered radiation, and ignores any degree, if it is not out of the carbine. Why 230V, many appliances are a 12-volt, and are often cheaper. Refrigerators, energy-saving lamps, water pumps, air conditioners, etc. Most LCD TVs "eats" it is this tension, not to mention the car alarm, which is the most reliable and cost-effective option for protection.
Special attention should be paid to the "bath" coverage, where "230" is simply dangerous, although halogen lamps, 12-volt, brighter and more economical than conventional.
Last year I bought 5 solar panels and will not stop! While my Beloved is pregnant and we will need a lot of electricity to clean house and to wash the nappies!
P.S. Her parents now also use solar panel)
Have story to share? Write in comments and we'll contact you!