Orange – one of the most vibrant colors, it combines the power of the red color and the energy of the good-natured yellow. It is the color of the soft light of sunset, a symbol of happiness, fun and carefree. It creates an incredible atmosphere of celebration, fun, happiness, filling the house of the sun. However, like other bright shades of orange color in large quantities may inhibit, so it is better to be careful when painting walls, and use it as a bright accent. Here are some interesting facts from Jiji about it:
Psychologists proved that the orange color in the interior helps to improve mood.
Orange objects are characterized by their ability to carch the eyes, so these shades are ideal for interior accents (accessories, textiles).
Orange evokes creativity and stimulates the brain. Find a place for it in your home workplace or children's room.
Orange does not fit well with cool colors, so it's best to use it in tandem with warm colors.
Orange visually increases the amount of items: for example, the orange stand lamp will appear more voluminous than green.
Orange will be the most appropriate in the kitchen and dining room, as it increases the appetite, in the living room, children's room and the home office. For rooms in which you can rest and relax, and it is not very suitable for very bright and heated rooms.
Orange looks good in modern and ethnic interiors, especially Moroccan, Mexican, Japanese and minimalism.
The orange color in the interior excites and activates – these properties are inherited from him red. But orange is not so aggressive as red, and therefore less likely to cause a feeling of irritation and anxiety.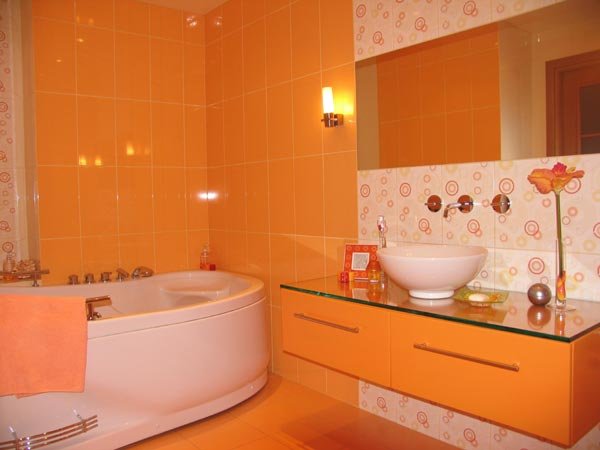 From yellow orange get to another property: create a sense of well-being and happiness.
Orange – a warm, bright and even blinding. He gives a shade to other objects that are near it. For example, a white sofa in a room with orange walls may seem creamy and mirror in orange-peach bath will create a beautiful reflection, like improving skin color of looking in it person.
The orange color in the interior stimulates the brain, improves appetite, increases the tone. Moreover, the orange color enhances the emotional level and encourages conversation.