While Italy and Brazil have long been famous for their flamboyant carnivals, other countries including Nigeria started popularizing their own festivals fairly recently. The best way to taste Nigeria's juicy culture is to blend in the bright festival celebration!
And while you're getting ready we're going to tell you what you need to know about these greatest events!
---
Stay on the bright side of life with Jiji!
---

Argungu fishing festival
Where: Argungu, Nigeria
When: around mid-February
Started as a peace-promoting competition between the people of Argungu and Sokoto in 1934, Fish Festival or Argungu festival has gradually become a cultural event of world importance!
This Hausa festival lasts for three days and climaxes in an hour-long fishing rage, involving 35,000 fishermen. They carry hand nets and gourds trying to catch the biggest fish in the choppy waves of Malan Fada River. Initially they are grouped in pairs and have to catch the fish with bare hands. The winning pair gets US$8000 and a minibus. In 2004 it the biggest fish (a catfish) weighed 80kg.
The festival also offers additional entertainment like boxing (dambe), archery contest, food crops and domestic animals fair, wrestling, rowing, diving, dances and singing, 'kabanci' competition, etc. Recently, even bicycle and car racing have been introduced to the festive program.
The spotlight is on Argungu Emirate in Kebbi State of Nigeria, the seat of the flagship tourism event, the fishing festival. The high point of this festival is the grand fishing competition where the man with the biggest catch goes home with a trophy and a cash prize.
Sango Festival
Where: Oyo State, Nigeria
When: around August
The Sango Festival is celebrated every year during the month of August in the Alaafin of Oyo palace.
Originally it was the holiday of Sango, a Yoruba deity and warlock. Sango is considered to be one of the founding elders of the Oyo state so the festival is very important for Yoruba people. It also attracts guests from countries like Cuba, Brazil, Trinidad and Tobaggo and the Caribbean.
On this day Yorubas demonstrate their cultural heritage in the form of drumming, dancing and singing.
Being one of the loudest festivals in Nigeria, Sango festival lasts for 10 days. The distinctive feature of worshippers and visitors is their white or red garments.
The grand finale of the annual Sango festival took place on August 29, 2015. The Elegun Sango Koso, the head of all Sangos, performed the symbolic fire, thunder and rain that signify the Sango heritage.
Eyo festival
Where: Lagos Island, Nigeria
When: no specific date
The Eyo festival or Adamu Orisa play is one of the brightest nigerian festivals promoting Lagos culture and traditions. It features magnificent and wide-ranging theatrical plays showing Lagos aboriginal history. The event impresses with its scenic regalia and costumes and general atmosphere of merriness and joy.
Originally Eyo festival was held to commemorate various outstanding denizens like White Cap Chief, the person who made a great contribution to development of Lagos.
The festival that has no particular date for celebration lasts for 7 days of activities, and culminates in a stunning parade of thousands of people wearing white attire and coloured Aga hats.
Check out the amazing rare Eyo Festival in Lagos, Nigeria and witness how the death of a prominent person (usually a high regarded chief) is celebrated.
Calabar carnival
Where: Calabar, Nigeria
When: 26th – 27th December
Calabar Carnival traditional festival in Nigeria aka "Africa's Biggest Street Party" was founded to attract the tourists' attention to the Cross River State in Nigeria. The festival begins on 1 December and lasts till 31 December involving various Nigerian peoples.
Carnival Calabar is an unprecedented show of African culture manifesting through music, dance, drama, costumes, make-up and float designs. It is a combination of joyous fun and disciplined preparation resulting in pure delight and burst of colour, sound and theatrical performance that has no rivals on the continent.
The Carnival is the biggest cultural Festival in Africa with 50 million television viewers on NTA Network, NTA International, AIT, CRBC and Continental TV (Africa Magic, Channel O and MTV Base).
The Carnival parade culminates at the UJ Esurene stadium which is the finish point of the competition for 'Band of the year' in different categories. There are 5 major competing bands each comprising 10 000 revellers as well 10 bands that do not take part in the competition. This competition gathers another 15 000 seated viewers and 10 000 other spectators in and around the stadium.
Calabar Carnival is one of the largest tourist attractions in Nigeria. It's a display of flamboyant colors, culture, dance & music y bands and floats across many kilometers in calabar culminating. Check out my coverage of this yrs Calabr Carnival 2016
Start enjoying life with Jiji – and you will never want to quit this sweet habit!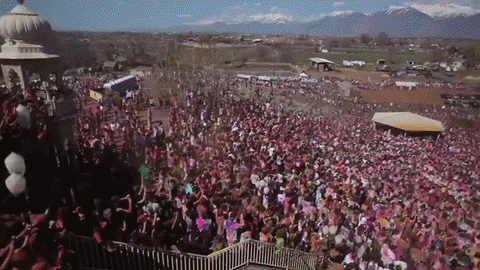 ---
Wanna buy and sell easier, faster and more convenient as ever? We got something really extraordinary for all the online shoppers and traders!
Install Jiji app now – get all the benefits of today's shopping!