Plastic surgery dramatically changed the lives of many celebrities: someone raised their self-esteem and plastic surgery positively influenced their careers, and somebody's appearance was completely ruined. We collected a list of celebrities that became famous for their plastic surgeries.
Have you ever seen before/after photos of these 10 celebrities?
Megan Fox
Megan Fox is one of those beauties who made themselves. The pretty appearance that Megan inherited from nature was pretty much corrected by plastic surgery – cheekbones, lips, nose shape. All this allowed the actress to create the appearance of her dreams, and to become a dream of millions of men at the same time.
Bella Thorne
She is an actress and singer and is known by her secondary roles in dozens of movies. Bella Thorn, the owner of a flamboyant appearance, has been resorting to all sorts of cosmetic products since her childhood. However, she did not do any cardinal manipulations with her appearance before the age of 19. However, thanks to her publicity, her fans have an opportunity to compare Bella's before/after photos and come to the conclusion that some plastic surgeries happened.
Kylie Jenner
The youngest of the Jenner-Kardashian family, Kylie is only 20, but she does not intend to lag behind the famous sisters. It concerns not only the profession but also the endless plastic surgeries. A lot of fans think that really wonderful metamorphosis has occurred with her appearance.
Rumer Willis
The eldest daughter of Demi Moore and Bruce Willis decided to do plastic surgery. The girl had complexes about her appearance since the childhood. It seemed that she did not like everything: small eyes, massive jaw, and thin lips. By the way, Rumer's mom is also known for her love to change the appearance.
Lindsay Lohan
For the first time the actress made plastic at the age of 17, enlarging her breasts. After a while, Lindsay has other plastic surgeries: she corrected her nose, lips, and cheeks. If in the interval between 2003 and 2016 the actress had unsuccessful cases of plastics, now Lindsay has clearly grown up.
Mary-Kate Olsen
Famous Hollywood actress Mary-Kate Olsen is no longer a twin of her sister Ashley Olsen. Plastic surgeries have changed the girl that she no longer resembled her sister.
Ashley Tisdale
The queen of teenagers Ashley Tisdale corrected her nose not only to improve it: she had a twisted nasal septum (although many celebrities justified themselves this way). The doctors not only corrected the nasal septum but also gave her nose a more refined shape.
Tori Spelling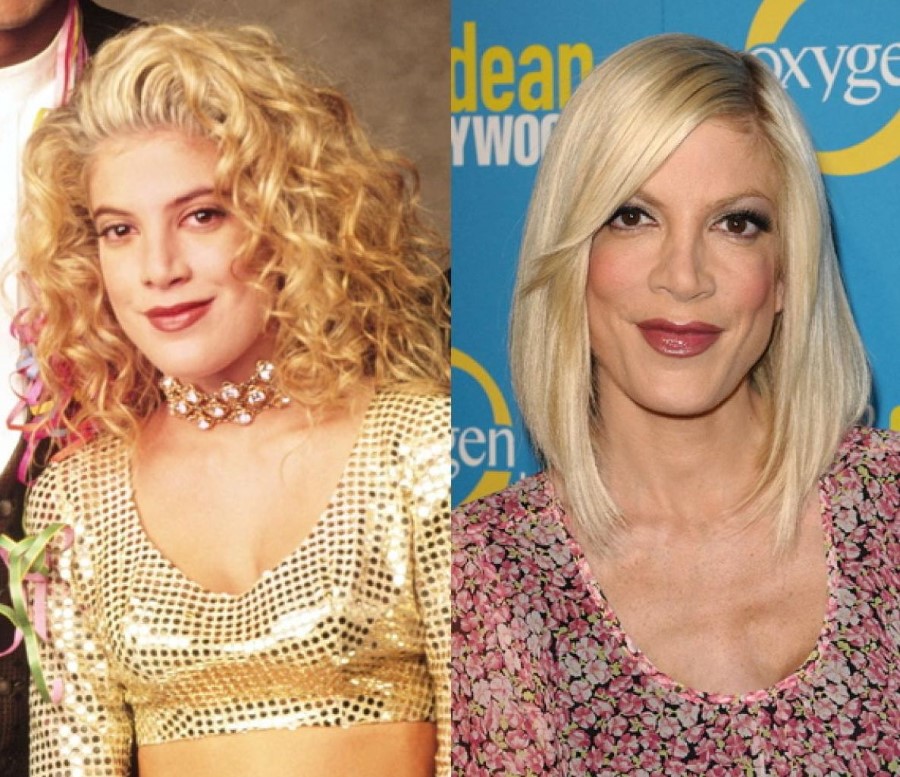 Since the childhood, Tori was unhappy with her appearance, so she often used her mother's cosmetics. Growing up, Tori Spelling decided to do plastic surgeries. The first thing that Tori Spelling corrected was her nose. Then the actress continued her way into plastic surgery.
Caitlyn Jenner
Kaitlin Jenner is one of the most popular users of Instagram. The history of her life surprises with sharp turns of fate. Leaving the sport and divorcing his wife, at the age of 65, he decided to perform an operation to change the sex. Before this landmark moment, he tortured his hated body for a long time with various plastic surgeries and procedures, trying to get even one step closer to the coveted female appearance.
Janice Dickinson
Janice Dickinson is a legendary model glittering on the podium in the last century. An outstanding appearance and uneasy personality have erected Janice in the status of the main scandalous person of the 80's and the supermodel number one. When comparing before/after photos of Janice Dickinson, a natural question arises about the number of plastic surgeries.