This year all shades of lavender are quite popular and stylish. This color does not irritate the eyes, soft and a little bit unusual. Interior with it turns out airy, light, quiet, romantic. It is believed that lavender differs by sensibility, eccentricity, has some sort of magic,  positive energy. Today JiJi represents a set of fairy lavender interiors. Are you ready?
You can use lavender as the main color or additional accent. Color is suitable for the bedroom, nursery, living room, bathroom, in the kitchen it is better to do just accents. Lavender is often used in children's rooms. This neutral shade is suitable for both girls and boys, but we can take advantage of numerous shades, which can be close to the pink or blue to make a difference on the gender. In combination with a variety of pastel and white, lavender relaxes and soothes. But lavender pretty cool shade, so you need to add orange, yellow or red, to warm the room.Most often, lavender color is used for the walls. But if all the walls in the room are painted this color, it can become too much. Therefore it is preferable to use it for only one wall. Lavender looks good in combination with white or light gray, so it is a suitable option color compounds.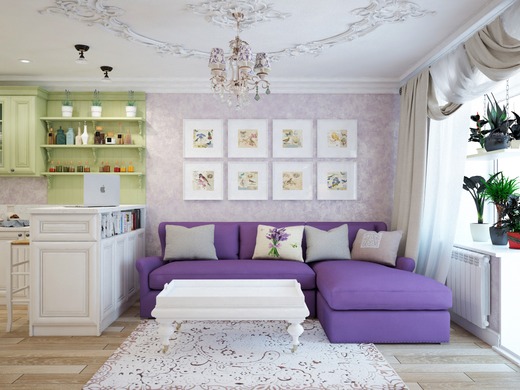 The basic white color blends perfectly with the lavender shades. The living room is presented in white, and linens in lavender. Interior turns romantic and calm. Add the cream soft blanket and pillow on the bed, they will create a cozy and warm atmosphere.
All ideas can be realised with JiJi!

Don't miss next page!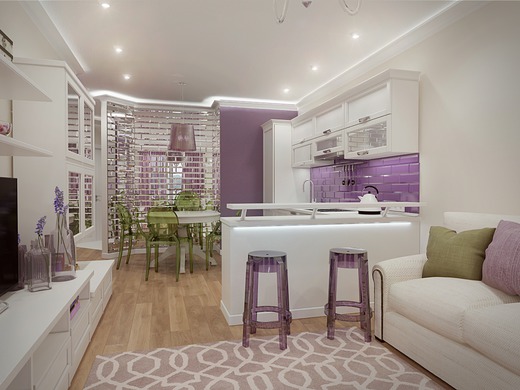 Example of cozy interior with many shades of lavender, violet and turquoise!
Lavender color is very inspiring. It remains lavender fields in France, which are look like another world, where nature has unusual colors.
Make your house cozy and comfortable with JiJi!