Culinary is a pleasure for people who have a talent to cook. But that's only in case if you know the secrets of simple and rapid preparation of ingredients … otherwise, this daily process can become a living hell for you! No wonder that chefs do not spoil their hands with it!
This post will help you save a lot of time and learn to enjoy the process of cooking your favorite food.
Buy quality foods on JiJi cheaper and from reliable sellers – and make your own culinary fest every day!

Are you ready to start war with garlic, tomatoes and corn?
Go to the next page & start earning stars on a shoulder strap!



Separate the head of cabbage
Really, you are not a rabbit to gnaw on it! So, to separate the head, simply hit it on a table as hard as you can.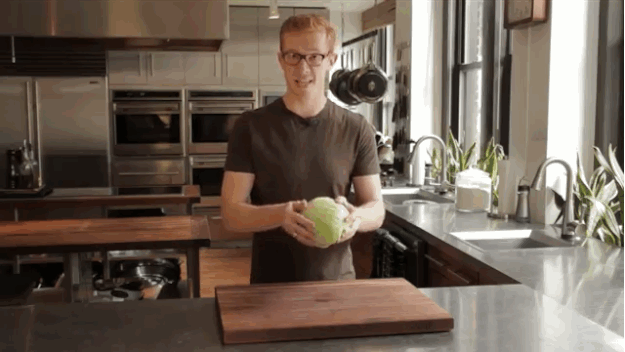 Peel off the ginger using a spoon
Using a knife you can cut off a lot of extra stuff. And you're a thrifty bro, aren`t you?
No Description
The cake won`t grow stale, if you
Attach to the place of the cut several pieces of bread with toothpicks. So this way bread will grow stale, and the cake won`t. Isn`t it nice?
Quick preparing of pasta
If you soak the pasta for a few hours or even overnight in cold water, you will cook it within a minute!
How to pull out an avocado stone
To pull a stone out of avocado without touching a pulp, use a large sharp knife.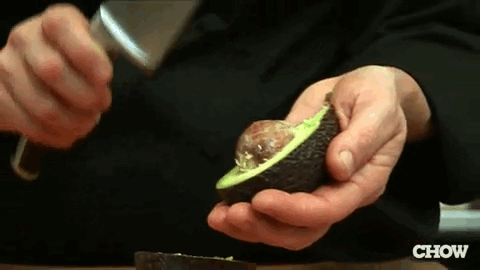 If you need a couple of lemon juice drops
If you need just a couple of lemon juice drops, make a hole using a toothpick and press slightly. This way you won`t harm the fruit.
Delicious salad dressing
Add in a jar with a little mayonnaise some vinegar, olive oil and spices — you will get an excellent salad dressing and clean the jar as well.

You can easily peel off avocado using this method: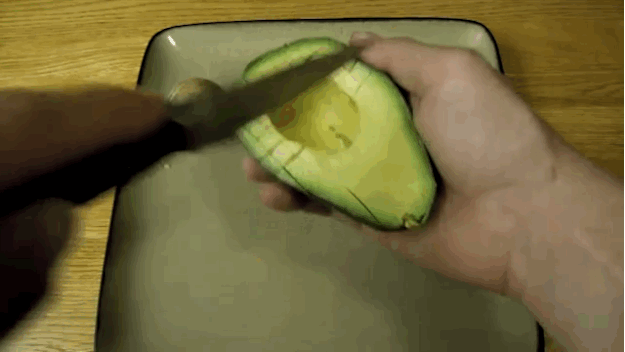 Then take out the pulp using a spoon.
Use a spoon to peel off the kiwi
Kiwi are undeniably delicious, but the fuzzy fruits can be a chore to peel and eat. Here, Food & Wine Test Kitchen whiz Justin Chapple reveals the easy way to peel a kiwi using a spoon. Cut off the stem side of the kiwi. Slide a spoon into a kiwi just under the skin.
Soak fresh berries in a weak vinegar solution – this way they won`t grow moldy in the refrigerator
Storing garlic & onion
Keep the onion and garlic in perforated paper bags, this way they won`t grow moldy and stay fresh for more than two months.
To spread the butter all over the dish, just put it in the freezer and then grate it!
Easy way to cut sherry tomatoes 
That is a great pleasure to cut small cherry tomatoes into pieces, but only if you're a pervert or you have plenty of free time. But if you hurry and do not want to suffer – press them between two plastic lids, and then put a sharp knife blade between them.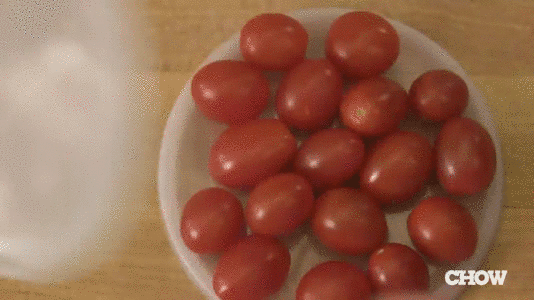 What other products can you make your friends?
Go to the next page & find it out!

Separate white from yolk
You've seen how your girlfriend did that – transfusion of an egg from one half of the shell to another – but you are not as good at it as she is? There is an easier way!
Take a plastic bottle, place the neck to the yolk and squeeze the bottle — the yolk will be inside, and it you will be able to transfer it to a separate bowl and squeeze it out!
Follow on Instagram: https://www.instagram.com/cliffordendo/ Foodinese.com Twitter: http://twitter.com/foodinese Facebook: http://www.facebook.com/Foodinese I saw a video of someone separating egg yolks using a water bottle. I was so impressed, I just had to try it for myself. After the initial shock of how well it worked, I wondered can you do more than 1?
It is very easy to peel of the garlic – put it in tight ware and shake actively
Learn how to peel 20 cloves of garlic in 20 seconds! Go to http://foodwishes.blogspot.com/2013/11/how-to-peel-garlic-like-bosslike-actual.html for the ingredient amounts, extra information, and many, many more video recipes! I hope you enjoy this Ultimate Garlic Peeling Trick!
For perfectionists only – use apple slicer to perfectly cut potatoes
Store lettuce in a paper bag
Then put it in refrigerator. And do not limp the leaves — this way the core will stay fresh longer.
Freeze meat to evenly cut it into pieces
How to deal with grenade
Cut the fruit, then crack it in half with hands. Open one half, put the side with the seeds on palm and begin vigorously knocking on a grenade with a wooden spoon until all the seeds are in your palm. It takes only 10 seconds to do so.
Fast way to shell off the large quantity of egg

s
Thoroughly shake the eggs in a bowl so that they hit each other
Subscribe to my 2nd channel https://www.youtube.com/user/origami768 If you want to know what i am up to follow me on: https://instagram.com/crazyrussianhacker/ https://www.facebook.com/CrazyRussianHacker https://vine.co/CrazyRussianHacker
Wrap banana bunch with a sticky tape
They will start to blacken 3-5 days later.
Use two cups, to cut the corn kernels from the cob
First, you need a small bowl and a cup. Wrap a cup with a towel and put it in the middle of the bowl upside down. Put a corn head in the hole of the cup. Take a knife and gently cut off the kernels.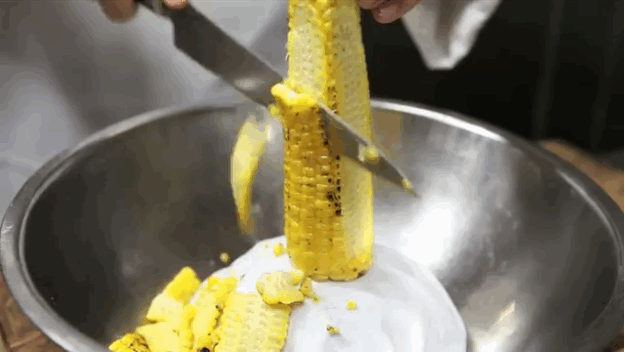 Store cut avocado with a piece of onion
This way it won`t turn black. Alternatively, you can sprinkle your avocado with cider vinegar.

If you want to pull the corn from the cob, put it in the microwave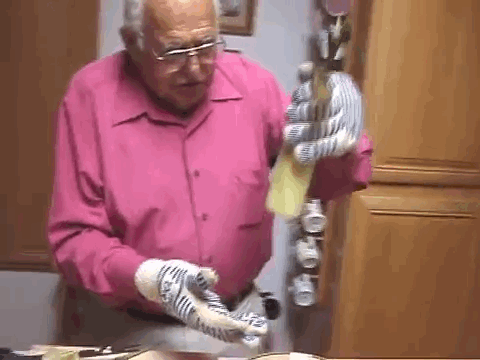 How to squeeze lots of juice out of citrus fruit
Much depends on fruit, but this method makes it easy to get juice from any citrus (if you plan to do it with your hands). You need to firmly hit it on table with your palm or a knife, then cut and squeeze.
For other Zippy Tips, visit http://jazzygourmetblog.com/zippy-tips/ Jazzy Gourmet Cooking School demonstrates how to get the most juice out of a lemon. http://www.jazzygourmet.com or http://www.facebook.com/jazzygourmet. For more Sherry K music, visit http://www.sherryk.com.
Storing eggs
Grease chicken eggs with vegetable oil
Before storing them in the refrigerator — this way they will stay fresh for three to four weeks longer.
Buy foods on JiJi – here you will find a huge assortment and a great quality!