If we snatch a look at the fashion shows hairstyles in 2016, we'll definitely notice the appearance of new (or updated old) trends in hairstyles that will be relevant in 2017. Incredible volume, French braids, retro waves, small curls and lush waves, low ponytail, ripple – these hairstyles represent only the tip of the iceberg!
Let's take a chance to look deeper and learn more about trendy hairstyles on the example of celebrities!
Buy all kinds of products for hair beauty on Jiji – we have 100% quality goods by leading brands that you can buy much cheaper than their average market price!

Weavon hairstyles
Weavon hairstyles are confidently taking their place among the most popular hair trends of the season.
The term "weavon" is used to describe hair extensions used to complete a lady's hairstyle. It's extremely important to look stunning nowadays so most ladies are willing to spend quite a fortune on their weavons that can be used for as long as two to three weeks. Therefore, weavons are always in demand.
Weavons can be made with human or synthetic hair. The most popular human hair comes from Brazil and Peru since this hair is both soft and durable.
Human hair costs more than the synthetic hair since it's more flexible and versatile while synthetic hair (made of plastic fiber) is usually pre-styled and can't be transformed, for example, made straight or wavy. Like human hair, synthetic hair can be used for 2-3 weeks before it gets brittle and worn-out.
Fringe hairstyles
Fringe hairstyles have become very popular even in Hollywood this year. However, before accessorizing yourself like that you have to consider a few things – like how you are going to style your hair, whether or not you're going to bob it, what fringe style you want, etc.
Regardless of what style you decide to you go for, these fantastic celebrity fringes will definitely help you make up your mind.
Brazilian wool hairstyles
Yarn braid extensions have come into fashion in Nigeria and other countries.
Compared to ordinary wool; a Brazilian wool is smooth, soft and extremely lightweight. Yarn is used instead of synthetic thread to create this hairstyle.
Despite the growing prices for hair extensions, you can definitely afford Brazilian wool. Three bundles of various colors will cost you only N500.
Have a look at some gorgeous Brazilian wool hairstyles here:
Didi hairstyles
Didi is a very old Yoruba braiding style that has become very fashionable these days. Stylists recommend it for brittle hair and pregnant women.
Make sure you understand how to care for your hair with this style before you go for it:
moisturize it at least once in two days with some leave-in conditioner or natural oil.
deep condition it at least every two weeks.
Crochet braids
This handy hairstyle is back from late nineties and it looks somewhat upgraded.
The main difference is in the textures that are more natural-looking now (havana twists, braid outs, flexi rod sets) You can see more crochet styles below.
Crochet braids are easy to do yourself, not very time-consuming and quite cheap.
Short hairstyles
Get inspired by the pictures of celebrities wearing short hairstyles and you'll never have any problems with styling your hair that you want to bob for the summer!
You can choose from Wavy Sassy Bob, short balayage bob, cute curly bob, lifted bob, short bob, curly layers, curly Q haircut, half-shaved, undercut curly hairstyle, stacked bob, curly angled bob, messy bob, short dramatic ringlets, angled short cut and many more!
Hairstyles for long hair
If you are one of those women with thick curly hair who use a lot of flat ironing you may opt for choosing a trendy haircut and experiment with various textures and colors. This will definitely add some grace and playfulness to your look.
Check out these fashionable celebrity hairstyles for long hair:
If you really care about your hair health & beauty, simply rely on Jiji: only here you can find the greatest variety of hair care products by famous brands at the best prices!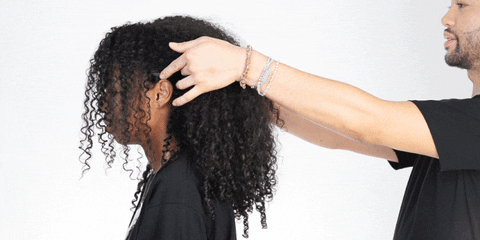 # ghana weaving for round face # long kinky twists # ghana weaving styles